10 Powerful Strategies to Increase Your Web Presence
Monday,
Whatever business you are running, having an effective and targeted web presence is essential for your success.
In this article we will explain the importance of building a solid and effective online presence and then list 10 strategies that are most practical to achieve this.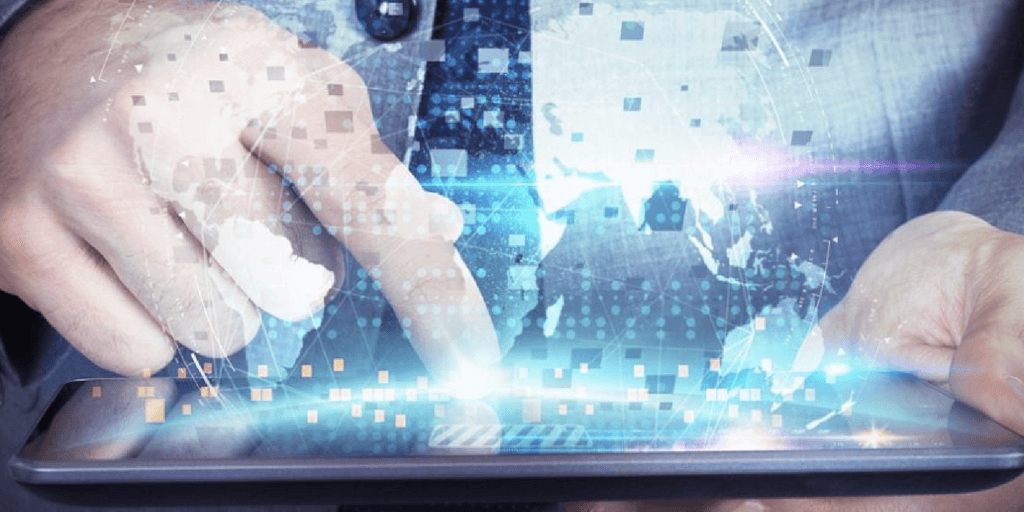 This article covers:
And the 10 strategies:
· Create a professional website
· SEO – optimize how you rank in search results
· Paid Ads – drive targeted traffic to your web assets
· Social Media – how to use it to generate buzz about your brand
· Content Marketing – build relationship with bloggers
· Communities – engage with your audience
· Forums – develop your authority
· Industry Directories – promote your site
· Email Marketing – grow your audience
· Analyze for improvement
What Is Web Presence And Why Does My Business Need To Be Concerned About It?
Whether your business is small and local or a corporate giant, whether it sells goods and services online or in the physical world, maintaining and controlling a strong, focused and relevant web presence is crucial.
Web Presence is the sum of your actions and interactions online that result in how your potential customers and existing ones find and evaluate you on the web.
The thing to remember is, you aren't acting in a vacuum. You are competing against everyone in your industry, or niche, local or global, for the same customers in a very crowded online space.
It's essential to understand that online presence is like a mechanical watch – you need all the moving parts to work in unison for it to be precise. And precision in the online game means that whenever a potential customer is having a need that is relevant to your business, he'll find you to answer it.
Schedule a Demo
We'll show you how our platform will help you increase your online presence.
1. Create A Professional Website
A well designed website that highlights your quality and professionalism should be the first step in launching your online presence.
These days its so easy to create a great looking website or online store using site builders such as Wix or Squarespace – which require no design or coding knowledge and come with an endless array of templates and design tools to choose from.
Now that there's no need to hire a designer or site builder to get your business online, it's easier than ever to go digital.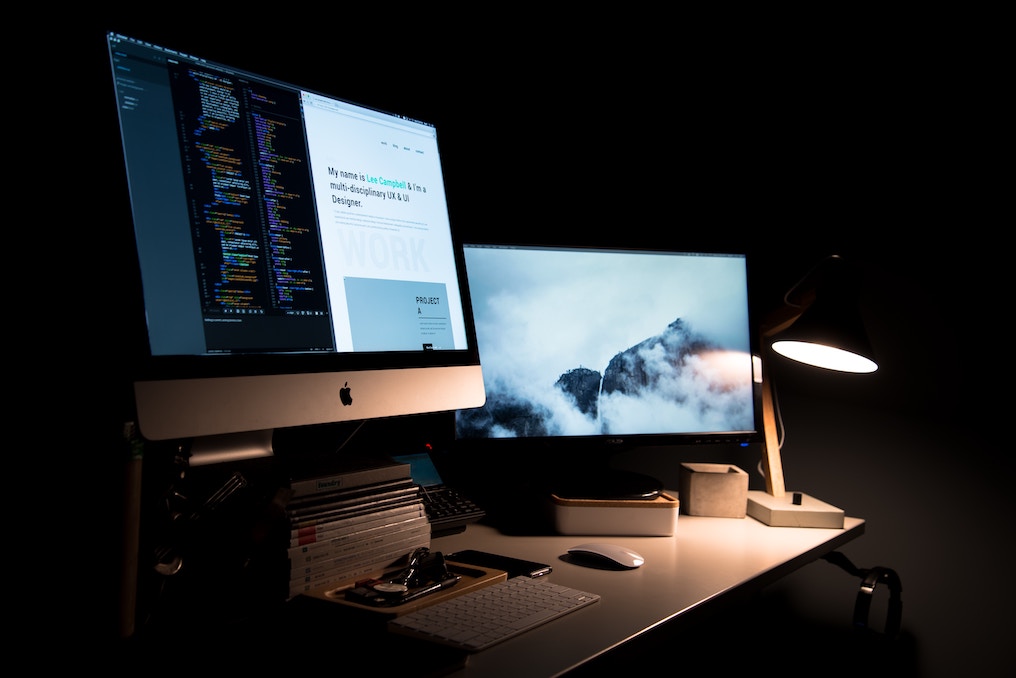 The four building blocks of a great site: Visuals, Responsive Design, Concise Messaging, and Content.
1.Visuals
As the adage goes, "First impressions count." Visitors to your site make judgments on your business within the first few seconds of arriving at your website.
Colors, images, and even spelling and grammar mistakes impact those impressions. Put your best foot forward to imprint a great response by paying careful attention to visuals. There are several excellent guides online to assist you in this design process.
2. Responsive Design
51% of Internet users interact with mobile digital media (compared to 42% with desktop), and that number continues to grow each year. Responsive Design ensures that your website is viewed properly on mobile devices such as smartphones and tablets.
Sites that are not "mobile-friendly" and lack a responsive design are passed up by consumers almost immediately, resulting in loss of sales and leads.
Search engines also understand that most mobile searches are local, so a mobile-friendly website can help you rise above your competition in search results.
3. Concise Messaging
Clearly communicating your value through text and images helps increase conversions. Your site visitors will be quick to leave if they become engulfed in flowery phrasing and irrelevant images.
Your messaging should match your mission, values, and business identity.
The typical site visitor will stay on your page for just 15 seconds before bouncing to another page—so you have to instantly be able to capture a visitor's attention and speak in a way that will keep the consumer on your site longer.
4. Content
The content on your website, be it text (articles and blog posts), images (pictures, memes, videos), or audio (podcasts) should be engaging.
Does it resonate with the visitor? Does it spark an interest that will create a repeat visitor? Does it establish your site as an authority with whom they'd want to do business?
Your engaging content also falls into two categories that need to be considered: Fresh and Evergreen. Fresh content is new content (and is usually evidenced by a posting date or the timeliness of the information).
Evergreen content is usually informative and always remains fresh; it is content that site visitors will return to as a resource and to educate new site visitors.
Content counts, and it is a crucial factor in increasing your web presence. As you keep reading, you will see content's connection to other points on this list and uncover why it is of such high importance for increasing your web presence.
Schedule a Demo
We'll show you how our platform will help you increase your online presence.
2. Optimize How Visitors Find You In Search Results
Search Engine Optimization (SEO) is the science of directing customers to your website via search engines (the most popular being Google).
It is the essential and fundamental work applied to your website to make sure your business is seen and ranked by search engines so that you appear higher up in the search results when customers and leads look for you or something related to your business.
The building blocks of SEO are keywords, which are words or phrases relating to your business. Start by choosing 3 to 5 essential keywords that someone would search for that would lead them to your website.
These keywords should appear in the copy on your site in order to enhance your search engine rankings.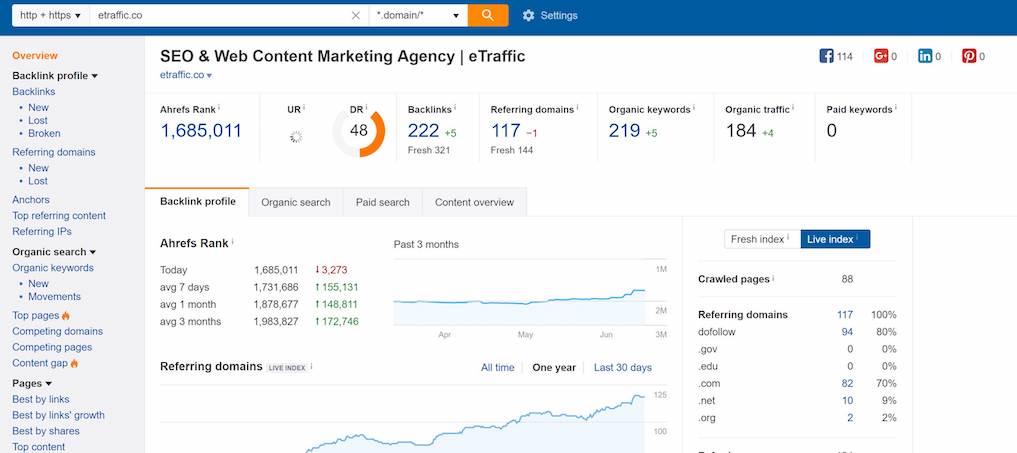 SEO management tool Ahrefs
A word about keywords:
Short-tail keywords are words which are usually less specific and target larger groups in search. Long-tail keywords are phrases someone will more likely use when they are closer to the point-of-purchase. These keywords are more specifically used for niche markets.
To increase your presence across the Internet, you will need a good mix of short- and long-tail keywords, and focus on keywords pertaining to your specific brand and market versus general keywords.
How do you find the right keywords? Search engines, as well as website creation sites, have tools available to help you discover, modify, and monitor your keywords and their performance.
Google Adwords is a good place to star. The tool provides comparisons and rankings of different keywords to help you figure out what words people are searching for.
SEO experts can also be invaluable resources to analyze and suggest top performing keywords for you as you start your website and as you make changes as your business grows.
3. Increase Your Traffic With Paid Ads
A relatively easy and quite effective way to drive traffic to your website and boost your online presence is to use paid search advertising. Pay-per-click (PPC) ads allow you to pay for display ads on search engines which appear in the sponsored results section of the search page.
This practice can be an incredibly effective tool for gaining exposure – 65% of consumers click on Google Ads when they are looking to buy an item online.
When dealing with PPC ads its important to note that you are utilizing keywords and search terms to define and promote your brand above your competitors.
Highly general keywords will not be effective in a PPC campaign.
If you have the funds to run PPC advertising campaigns for your long-tail keywords, you will find that, in conjunction with your SEO efforts, it is a lucrative way to bring more qualified traffic with high conversion potential to your website.
4. Generate Buzz on Social Media
buzz. n. Anything that creates excitement or stimulus.
From Facebook to Twitter, Instagram to LinkedIn, YouTube to Pinterest, and a slew of sites that are popular even if they're not on the tip of everyone's tongues (CafeMom, Flickr, and Tumblr, to name a few), social media websites and their respective mobile apps are the best ways to get people talking about your business.
Other benefits of having active accounts on social media are social proof, real-time communication with leads and customers, increased brand awareness, and low-cost, effective advertising.
There were 1.87 billion social network users in 2014 – an incredible number of people who you don't want to miss reaching.
Search engines recognize the enormous effectiveness of social media, and its content often appears high in SERPS.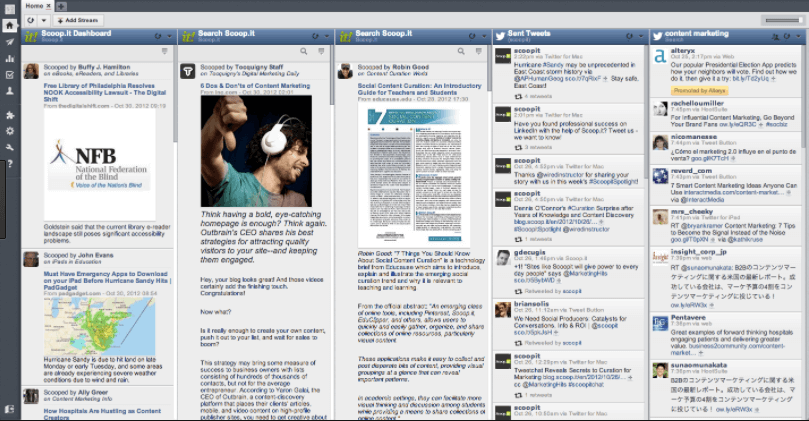 Social media management tool Hootsuite
There are 4 best practices for using social media to boost your SEO:
Grow your number of followers, and make sure they are quality followers. Do your best to make sure you are interacting with real people and not "dummy accounts."
Encourage external inbound linking by sharing high-quality, authoritative content.
Optimize your posts for searches with strong anchors like video clips, infographics, articles, and compelling photos. Be sure to use descriptive titles, framed within a specific query, and use relevant keywords.
Make an appeal to users to share your posts.
Build Relationships With Bloggers
5. Connect With Blog Influencers
Blog outreach – working with bloggers to create genuine, authentic content to promote your business – is a public relations-focused tactic whose goal is to create brand awareness without having to purchase placement for your branded content.
It's a way to get others to do the work for you, and blog influencers can successfully drive not only awareness but action as well.
If you have the time and inclination, identify influencers with a resource like BuzzSumo, and start relationship building and submitting your content to appear on blogs related to your industry, market, product, or service.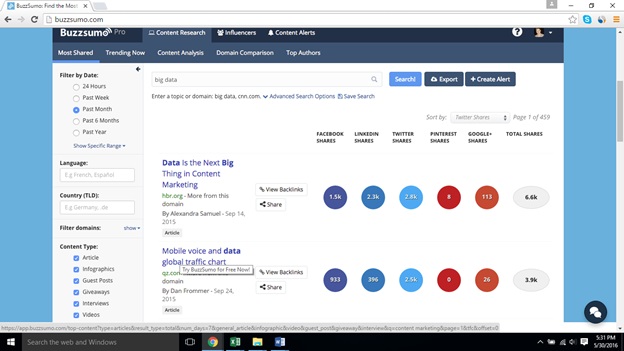 Content analysis tool BuzzSumo
Blog Outreach via Online PR
For most businesses, connecting with blog influencers can be a daunting, time-consuming project that requires many resources. This strategy of increasing web presence may be something you consider outsourcing to someone knowledgeable and connected in the world of online public relations.
Online PR encompasses digital marketing techniques associated with SEO, partnership building with influencers, and social marketing.
Experts in the field have a wealth of resources at their disposal and are able to promote your business and see measurable increases in your web presence via their connections and portfolios.
There are an estimated 152 million (and growing) blogs online, with the majority of major media outlets and industry influencers maintaining popular blogs.
Getting your content posted on niche and localized blogs can build high-quality inbound links to boost your website's organic search results, which will bring you more valuable exposure.
Reasons To Use Online PR
Increase web exposure
Links and content can be published across the Internet
Customers and leads are influenced by content they read online
Lack of time and connections to do proper blog outreach on your own
Barriers to entry for blog outreach in niche markets
6. Engage In Online Communities
Online communities (or groups) are comprised of people who share the same interests as your business. Community members have personal profiles, and they post, share, and chat with other members.
The beauty of online communities as they pertain to growing your web presence is that communities are greatly segmented—by niche, location, language, and many other parameters.
Larger businesses can hone in on specific aspects and join applicable communities, SMBs can find relevant ones, and very specific target markets can be found within online communities.
These communities provide a great opportunity for you to engage with potential site visitors, to offer customer service, to educate your audience, and to build your reputation.
Your business's participation in communities has a direct effect on your online presence, which can be measured and evaluated in several aspects. As we'll discuss, measurement (analysis) is an important way to increase your web presence.
7. Develop Your Authority in Forums
If you want to improve your business's brand awareness and reputation while driving more traffic to your website, you can do so by developing an authoritative voice in pertinent forums.
Online forums are places where visitors (usually members) have discussions (a popular Q&A online forum is Quora) and post messages, questions, and answers. There are approximately 300 million forums, offering you considerable reach to customers and leads.
A link to your site in your signature can receive numerous impressions and clicks.
Dig in and post content, answer questions, engage in conversations, and make a name for your business in a forum.
It takes time, but you can reap great rewards when you position yourself as a thought-leader, while pursuing an authority marketing campaign in your field of business. Buyers are more likely to do business with trusted names and with those who demonstrate that they really have a handle on what they are doing.
Developing authority establishes you as a leader who customers can trust.
8. Link to Your Site on Directories
As previously mentioned, most people are surfing the internet via their mobile devices, and search engines are focusing on what's local in their results.
Having a profile on a local business directory (and certainly, market or industry directories, too) with a link to your business's website will increase your chances of being seen by leads and customers.
Popular directories like Yelp, Yahoo! Local, Google+ Local, and Internet Yellow Pages allow you to take advantage of their popularity in order to direct a great number of people to your site. Indexes for local businesses often use shared data, so the more directories, the higher you can rank in local searches.
Most directory listings are free and the site exposure is priceless.
9. Inform and Grow Your Audience Using Email
Utilizing sign-up forms on your website is not only a great way to interact with customers and leads and to keep track of conversions, it is also an incredibly effective way to grow your audience.
Sign-ups are opt-ins; if a visitor to your site takes the time to enter their email address, it's a pretty good indicator that they are serious about their interest in your business. Use email for retention as well as growth, to thank your customers for their business, advertise offers, and obtain referrals.
Speaking of your email list, there is a wealth of data you can access and should be organizing and reviewing for your business. Your email list, with information on customer demographics and conversion rates is the tip of the iceberg regarding your growth numbers.
10. Analyze for Improvement to Increase Your Online Presence
Increasing your web presence is a continual process that you can improve upon by analyzing what worked and what did not, which efforts to repeat and continue and which to stop or avoid.
Google Analytics, Rank Checker, SEOmoz Tools, are some of the best tools to help in your analysis.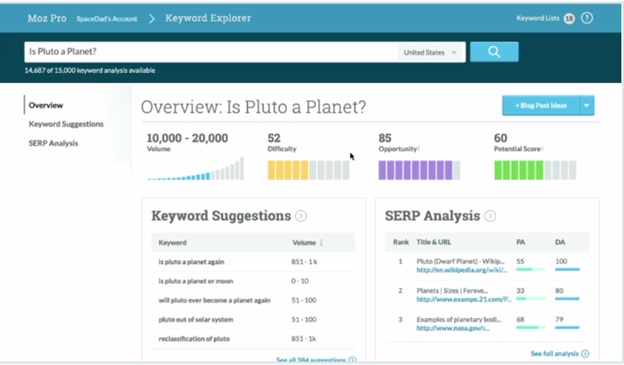 Keyword analysis tool Moz
Increasing your web presence can help you reach an exponential number of people, local and worldwide, in ways that traditional advertising cannot.
These 10 ways are the most powerful in terms of results, and practical in terms of performance and resources. Start using them today and watch your business grow.
Schedule a Demo
We'll show you how our platform will help you increase your online presence.
.featuredImage{display:none;visibility: hidden;}