Gambling Site Riding on Top US Universities to Google's First Page
Thursday,
An innocent backlink & anchor text research led us to a mind-boggling discovery involving Google, a gambling site and prestigious universities in the US, including some Ivy League ones.
It is our habit, as a B2C and B2B SEO agency, to do periodical research of our clients' competitors.  Analyzing one of our clients in the gambling industry, we've noticed a peculiar new competitor.
New faces pop up all the time in the gambling industry. What caught our eye about this specific one was that he was shooting up Google's search results, across a lot of valued keywords, pretty freakin' fast.
If you're unfamiliar with the online gambling industry, let's just say it's mighty crowded and flooded with copious amounts of money; competition is fierce. For terms like "real money slots" or "online slots machines" the PPC value can be upwards of $80 per click.
Take a look at this table below. You can see the meteoric rank rise of this peculiar competitor from January to September 2016. Also, the cost of each search term.
| | | | |
| --- | --- | --- | --- |
| Keyword | JAN 2016 Position | SEP 2016 Position | Suggested bid |
| slots | 100+ | 7 |  €    71.03 |
| real money casino | 55 | 7 |  €    42.52 |
| real money slots | 100+ | 1 |  €    60.02 |
| real casino | 49 | 9 |  €    27.38 |
| online slots real money | 41 | 1 |  €    93.34 |
| real slots | 44 | 1 |  €    40.10 |
| casino slots online | 52 | 9 |  €    82.96 |
| slot website | 48 | 5 |  €    54.96 |
| money slots | 55 | 4 |  €    33.55 |
| online slots casino | 40 | 7 |  €    62.51 |
| online casino real money | 41 | 7 |  €    83.21 |
| real online slots | 17 | 1 |  €  133.21 |
| casino games online with real money | 55 | 9 |  €  100.77 |
| play real money slots online | 29 | 1 |  €    87.95 |
Needless to say, to appear in the organic results on Google's first page is much more valuable than to appear in the ads; companies put tremendous efforts into that, spending time and money, and pursuing high ranking with a variety of marketing strategies, such as content marketing, thought leadership marketing and influencer marketing. This is for two reasons: Firstly, you don't need to pay for the clicks.  Also, folks have an inherent distrust of paid links, paid search results included. Last, ad blockers.
We turned to Ahrefs, an SEO backlink tool for data. We wanted to have a peek behind this rising star, to marvel at his backlinks; maybe we could learn a thing or two, figure out his anchor text and backlink strategy.
Online Slots Backlinks in Disguise
The site in question, an affiliate site of online slots mind you, had more than 70 links coming from TLD sites of .edu and a bunch of .gov links.
For the full list of backlinks' URL scroll down.
This seemed odd, to say the least. How in the world does one get so many .edu and .gov backlinks to an online slot affiliate site? Are we witnessing an Ahrefs bug?
Backlinks from TLD sites of .edu and .gov are highly coveted and possibly the most valued search engine optimization resource as they greatly boost your online presence. When you get the opportunity to backlink from such a domain, you devote a lot of effort into researching and devising an anchor strategy before you publish the link.
Some of this site's links were coming from the most prestigious universities in the States, even one Ivy League – Stanford. We had to see it for ourselves. We clicked the Stanford link. And this whole affair turned from odd to… insane?
Stanford Introduces: How to Build Your College Website Using Online Slots
A few things about this back-linking voodoo are worth mentioning:
The article is from December 3rd, 2014. The link is from 23rd of May, 2016 (according to Ahrefs).
Neither title nor article has anything to do with "online slots".
The link was stripped from its recognizable underline and unique color outfit, to make it unnoticeable.
The link is inserted mid-sentence with no context.

We scratched our heads, had a drink of water and braced ourselves for the next backlink to be clicked. We decided to go for North Carolina Central University School of Law, prepared for some hard-nosed online gaming litigation.
Historically Black Collages and Universities are Reliable Authorities on Mobile Slots
We are not scholars of black history, nor the Higher Education Act of 1965, so it was fascinating for us to learn that such foresight was applied in the penning of this monumental act; that mobileslot training will be offered in the future and that HBCU will become reliable authorities on the matter.

Also, we were immediately impressed with the anchor-text techniques applied here, time-travel especially.
Four Texas ECE Faculty Researchers Earn Distinction for Playing Real Money Slots
We weren't entirely certain how honored these four most highly cited researchers would feel if they read that in their own Electrical and Computer Engineering faculty website they were listed as earning a distinction in play for real money slots.

Land slot machines do run on electricity, and online slots are computer-based, but still. The placing of the link here felt almost purposely teasing.
In the University of Washington Children Are Too Focused on Real Money Slots Academics
It doesn't matter how and where links were placed, but in this case, of the Center for Child and Family Well-Being it felt just nasty. Reading the text around the anchor teaches us that Dr. Schonert-Reichi is being judgmental against children for being focused on real money slots and not devoting enough to self-exploration.
Of course the link was inserted some two full years after the text had been written, but when a headline talks about kindness and compassion in children, it feels just wrong pointing doctorial fingers at them.
UWest Presents: the Online Slots Real Money USA Lotus Scholarship
This was just getting more and more disturbing. Seeing it one by one was a surreal experience. In this case, the anchor text almost made sense; recipients that procrastinate for more than one semester, will forfeit their online slots real money usa scholarship. Rules are rules people!

We can go on like this all day, but you get the idea. As bizarre as all this seems, there are a few hard-knock conclusions to draw. But first:
Hacking Sites for Backlinks?
Let's address the gigantic elephant in the room – how the hell did he / she / they pull it off? How does one go about something like that, completely under the radar, without being caught, or at least exposed?
It could have been a meticulous job of networking. Finding in each university the "right person" with access to the website and willingness to plant a link there, most likely for money. This person could have been an editor of the blog, a webmaster or an IT guy, one of the administrative staff or the dean's daughter. This seems improbable.
Most likely it's a hacking job. A meticulous one no doubt, but a hacking job nonetheless. And if you're thinking, why would anyone devote so much work, or pay someone, to plant online slots links, have another look at the table in the top of the post; it'll refresh your memory on the kind of money that is rolling and spinning in the online gambling industry.
So, Google can still be manipulated using black hat techniques…
Now, let's draw some conclusions:
Relevancy isn't important when a link comes from high authority domains
Some SEO experts will recommend getting most of your links from relevant sites: if it's not content-related, it's not going to have much impact.
Apparently, when the link is coming from a high-trust source, like a university or a governmental agency's website, Google underestimates (or overlooks) factors like domain or page relevancy, title or other on-page SEO elements. This is surprising.
Google turns a blind eye on exact match anchors in high authority domains
There is consent in the SEO world: a backlink portfolio should not have more than 10-30% of partial and exact match anchors combined.
It turns out, when linking from high-authority sites, again, like .edu or .gov, Google tolerates (or even accepts) a much higher percentage of partial and exact match anchors.
Here is the backlink portfolio of the site, a super aggressive one with over 60% of partial and exact anchors: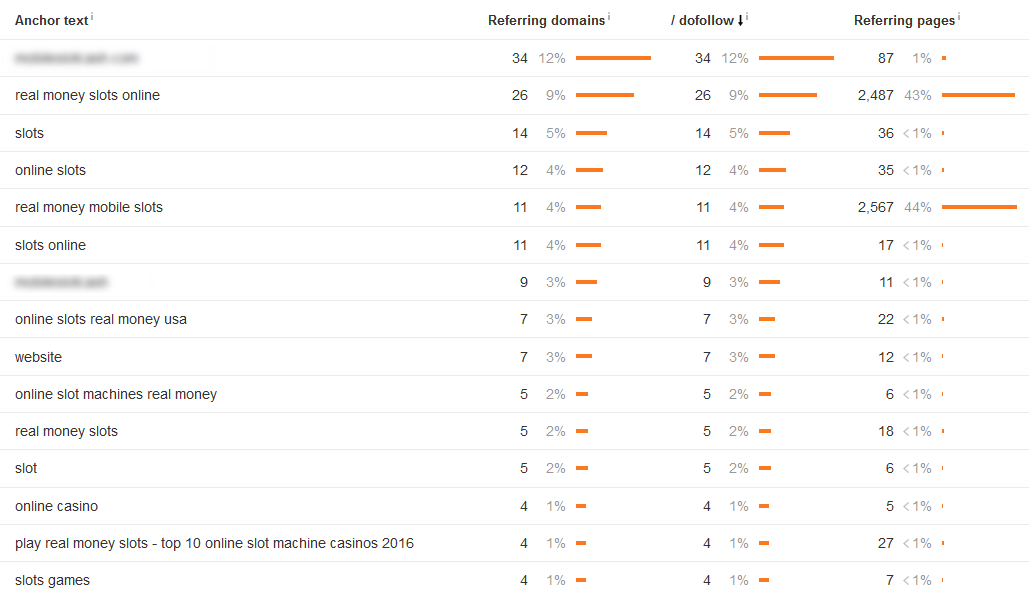 The Penguin update traumatized the SEO universe; bare-knuckle anchor texting was out, subtle was in. We feared Google, even overestimated their prowess. We started creating backlink portfolios with naked and brand anchors, subtle, partial match anchors, saving just a small percentage for exact match anchors.
On a Personal Note
Putting a white hat on for a sec, we published this analysis because we felt that applying this kind of SEO strategy is aiming a bit too low. It's taking advantage of educational websites that are the last online resort free of exactly these kinds of manipulations. There's no other way to put it – this is just wrong.
For a live list click here

by Assaf Dudai, Head of Content & Guy Regev, CEO of eTraffic Web Marketing