Small Businesses Need To Adopt A More Holistic Approach To Email & Online Marketing
Sunday,
If you are a small business owner looking to expand your client base, but don't want to deal with web designers & coders, marketers & copywriters – then keep on reading.
This article will cover:
What is email marketing

Why SMBs should use email marketing

Comparison of popular email marketing solutions

How to choose the right one for your business

More complete online marketing solutions for SMBs
Constant Contact vs. Get Response vs. AWeber Vs. MailChimp
| | | | | |
| --- | --- | --- | --- | --- |
| | Constant Contact | Get Response | AWeber | Mail Chimp |
| Social Marketing | Yes | Yes | Yes | Yes |
| Send & Track Coupons | Yes | No | No | Yes |
| Auto Generated Landing Pages | No | Yes | No | No |
| Reporting & Analytics | Yes | Yes | Yes | Yes |
| Mobile Friendly | Yes | Yes | Yes | Yes |
| Free Tier / Free Trial | Free Tier (limited features) | 30 Days Free Trial | 30 Days Free Trial | 60 Days Free Trial w. limited features |
BEFORE you even start reading, answer the following questions:
Does your business have a designer?
Does your business have a copywriter?
Does your business have a client-relationship director?
Does your neighbor's dog bark really loud at night?
If your answered NO to all these questions, you would want to continue reading.
If your answered YES, we suggest you buy earplugs.
Is Your Business Too Small To Market?
The answer to that is a resounding NO. The reason is that the means of marketing have become so available, and cheap, that it would be a shame to pass on them. Especially when your competitors are using them.
What Is Email Marketing?
As the name suggests, it is a way to market your business via email. Think of it as the modern-day pamphlet that used to be handed out on a street corner, or shoved into your mailbox – the physical one!
Why SMBs Should Use Email Marketing?
It is very cheap
It is super simple to use
It is highly effective
Always Ask For Permission
As things have evolved, different rules apply to the virtual mailbox than the physical one. As it is OK to place promotional materials in physical mailboxes, it is frowned upon to send unsolicited emails.
Never send promotional emails to people who haven't explicitly agreed to receive them from you.
Email Marketing Tools
If you are imagining yourself sitting in front of your computer, typing long paragraphs, you got it all wrong.  There are fantastic email marketing tools that automatically design eye-catching emails. They can look something like this:
They are as simple as pie to use and provide detailed feedback on how many opened your mail, how many read it, and how many were promoted to act – let's say, clicked a link in the mail.
Email Marketing Tools Are Popular For A Reason
There are a bunch of them. And to be honest, most of them are pretty awesome. You can refer to the table at the top of this page to see a detailed comparison, features-wise, of the Fab Four: Constant Contact, Get Response, AWeber and MailChimp. Or you can scroll down for a more in-depth look at each.
As a whole, our recommendation is this: if you are a medium-to-large business so yes, you should definitely use an email-marketing tool. It is a great complementary tool for your marketing effort, one that is highly measurable and offers high ROI.
But if you are a small-to-medium business, and especially small brick-and-mortar business, then we've got a much better solution for you.
All-In-One Online Marketing Solution for SMBs
Instead of fussing around with email marketing tools that are mostly tailored to larger businesses, go for a more "holistic" online marketing solution that fit smaller businesses.
We say "holistic" but we don't mean it in a spiritual way. There's nothing spiritual about online marketing, unless you are Seth Godin; and we can't all be Seth Godin. We do mean an all-in-one solution for all of your online marketing needs.
Comparison of All-In-One Online Marketing Solutions
 Infusionsoft vs. OfferPop vs. Wishpond vs. AppForma
| | | | | |
| --- | --- | --- | --- | --- |
| | Infusionsoft | OfferPop | Wishpond | AppForma |
| Social Marketing | No | Yes | Yes | Yes |
| Send & Track Coupons | Yes | Yes | No | Yes |
| Auto Generated Landing Pages | No | No | No | Yes |
| 12 Month Marketing Plan | No | No | No | Yes |
| Reporting & Analytics | Yes | Yes | Yes | Yes |
| Mobile Friendly | Yes | Yes | Yes | Yes |
| Free Tier /Free Trial | No | Yes | Yes | Yes |
What Are Your Online Marketing Needs?
In the simplest terms, you want to be noticed. You want to stand out among the competition. In the crowded and getting-pretty-expensive online space it is not an easy task for small businesses. Especially for those who aren't social media savvy.
You need a single tool, preferably automated, hassle-free, that takes care of things for you. Like the marketing manager you don't have. Like the social-media agency you didn't hire.
What Do These Online Marketing Solutions Can Do?
Good question. They can do surprisingly a lot. They can create an online marketing campaign for you and send a professionally designed email to your contact list about it. They can put up landing pages and ads online to promote your business. They can push your business on social networks.
That's no small change and the cool thing is, it is all done with very little intervention on your behalf. Once you give it the green light (a.k.a. purchase a monthly plan) and provide essential details about your business, you are good to go.
It's like teaching your dog to fetch the paper. When he gets it, he gets it. You'll never have to walk out to the driveway again in your bathrobe.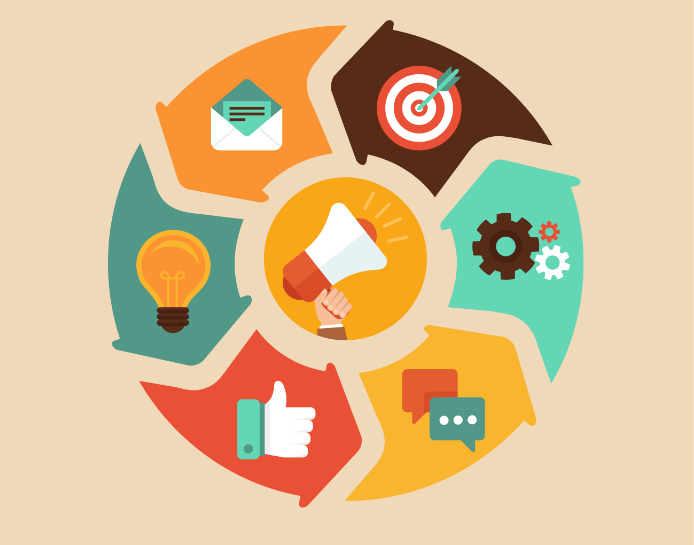 Breaking It Down
So how does one choose? It all depends on the specific needs of your business, the type of customers you have and your level of familiarity with online tools. Let's look at each of the platforms.
Offerpop
Offerpop relies entirely on UGC – that's User Generated Content. Meaning, it takes advantage of the active online nature of today's customers/users and "borrows" their photos, videos and posts to promote your business.
Leveraging the content created by your customers, the platform generates campaigns, contests, sweepstakes and enables you to use the UGC on your website, mobile app and in advertisement (online & offline).
Offerpop is all about user engagement. So if your business is one that attracts excitements and enthusiastic customers, this is a great option for you. UGC has the advantage of zero-cost and creators that want to show off.
If you own a dry-cleaning place, you should consider other options.
Wishpond
Wishpond aims for more established businesses with a "marketer" among their ranks. If one of your employees talks about "leads" and "conversion" all the time – that's a marketer! Grab him, or her, and introduce Wishpond.
You will need a marketing pro to run Wishpond. It is a great tool for marketers, providing them a dashboard to control all their online activities of campaigning, distribution, following up on leads and converting them. For the small business owner, it is a tall order though.
Infusionsoft
Infusionsoft is a great online marketing tool for small businesses. It has a powerful CRM (Customer Relationship Management) system that segments your contacts list according to their online behavior and prioritize them by their "readiness" to buy.
Infusionsoft is focused on ecommerce businesses. It streamlines and personalizes the entire sales flow of the web shop and automatically creates campaigns and sales.
AppForma
AppForma is probably the most small business-oriented online marketing tool. Highly automated, it doesn't require any web or marketing know-how. If you've got a smartphone, and a finger, that's all you need.
You actually don't even need a website to be working with AppForma. It is targeted at brick and mortar small businesses that don't want to start invest heavily in setting up their online presence. You will need an email address though. Better keep that in mind.
AppForma operates in the social sphere, automatically setting up marketing campaigns for your business on Facebook and other social networks.
Is There A Conclusion?
Definitely. If you are a small business owner you should opt for the more inclusive, all-in-one online marketing solutions, rather than a singular email-marketing tool.
It is cost-effective, and easier to manage. Online marketing solutions, those mentioned above and others, simplify the effort of maintaining an online presence and communicating effectively with your customers.
As described above, each of the online marketing solutions is best suited for a different type of business and the person who needs to operate it. All you need to do now if find yourself in the mix.
SMBs should strive to simply streamline their marketing efforts. Using a platform that answers all your online marketing needs as a whole, is a good way to go about it.
Appendix – The Fab Four Of Email Marketing
MailChimp
MailChimp is kind of the web's favorite son. They've got a cool name and a smirky attitude, but what's under the hood? Well, not surprisingly, MailChimp delivers on its reputation.
MailChimp has two major advantages: it is an ideal platform for the less technical users, those who don't have any design or coding chops. Their templates are easy on the eye and no less easy to customize to give it the look & feel you are after.
It is also the most convenient platform to integrate with other apps and tools. So if you are more toward the M in SMB, and work with other online marketing tools, MailChimp is a good option for you.
But, and that's a big but – if you're site / business relies on affiliate links, stay away from the Chimp. If you include affiliate links in your email that appear in their blacklisted domains (most of them merchants) the email won't be send.
AWeber
AWeber is the best option for those who get nervous about operating online without constant support. It is the easiest platform to setup, and they have the most responsive customer support. If this is important for you, that's a big Check for AWeber.
AWeber provides the best analytics & conversion tracking tools. If you have an ecommerce business and you send users from the mail to your web shop, AWeber will track for you their behavior.
Last, AWeber offers a powerful API interface to manage your subscriber database in PHP or any other script language.
Constant Contact
Constant Contact is super intuitive and easy to use. Small business owners who don't want to spend their entire day glued to the computer screen would be happy with Constant Contact's interface.
In general, Constant Contact is geared toward small businesses, and as such offers a multitude of templates for different types of emails and industries. They also constantly add new features and functionalities to their service.
And although deliverability rates are top notch all across the various email marketing providers – 96% and higher – Constant Contact manages to achieve almost perfect rates. For small businesses that don't have tens of thousands of subscribers on their lists, every mail that's sent to the spam folder matters.
Get Response
Get Response is best suited for larger businesses. Their drag-and-drop editor and landing page creator are great and offer a very wide selection of templates and iStock images to choose from.
On top of that Get Response offers excellent Autoresponder capabilities for sending time-based and action-based messages. This is the most advanced Autorepsonder out there, so if this is important for your type of business, should take Get Response into account when selecting your email marketing provider.
by Assaf Dudai, Head of Content at eTraffic Web Marketing